Inside Glod R & R
Hammering Away at a Myth: An Interview with David Glod, President of Glod Restoration & Renovation by: Louis Postel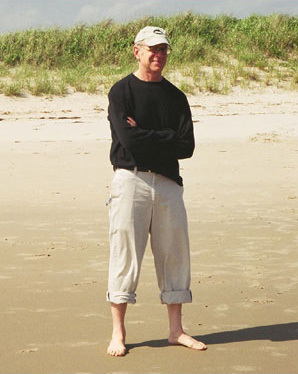 True or false: Renovating an old house is a lot easier than building a new one from scratch.

As the former editor of Design Times magazine, I spent years showcasing beautiful new homes, but always from the outside looking in, more than occasionally suffering fits of house envy. The whole idea of finding a piece of land, clearing the trees and creating one's own little Taj Mahal seemed like the ultimate way to achieve one's personal vision of domestic bliss. Sure it makes for a big challenge, but you only go around once, etc. etc. One the other hand, fixing up and enlarging what already exists seemed like a compromise, hardly a grand architectural statement. Renovation was worthwhile, for sure, if you're talking about Monticello, but from my editorial Olympus, I deemed renovation to be mainly a sentimental exercise that represented a much lower order of magnitude on the design scale. Builders and architects of new buildings were the real masters. Restoration contractors were...well, forgive my naiveté, but they made me think of aluminum siding men; certainly not the same order of professional. Then it became time with the arrival of our second child for us to actually expand what we had, or buy new. No more looking in the window at other people's homes from the comfortable vantage point of the magazine. Now this would be the real thing. And my wife and I did some heavy soul searching: Taj Mahal or a little rehab; big vision or a little tinkering. And little by little we started thinking renovation. How would we ever find another 1850's house with the kind of character that ours had, with all the neighbors we loved right in the middle of the big city? Forgettaboutit! The floorboards, the molding, all these details gave us what a new house takes years to obtain: character. Character was what we really wanted, along with light, space, and a bright orange couch.

So it was a complete turnaround. No more day dreaming of Taj Mahals. We would stay and tinker.

Now, a year later, the job is done and we have a totally remodeled and beautiful house. It feels very new. And my attitude has completely changed about renovation, thanks to our architect Marshal Audin, and our contractor David Glod of GLOD Restoration & Renovation.

These two had the marvelous ability to work with our family's needs and at the same time work within the structural requirements of the house. We wanted a room to do one thing, and the house was going in another direction. To get everything in synch was the real magic, worthy of a Renaissance master.

Now that I've seen GLOD in action and their work is complete, I am convinced their renovation skills are more profound in a sense than the skills required for building anything new. David and Marshall needed years of experience to enable them to retain the character of the house that was here originally, respecting every cased arch, built-up crown, high base molding, and idiosyncratic pilaster. At the same time they had to have a feel for modernizing and opening up the spaces, ingeniously concealing all the necessary hi-tech and mechanical stuff from view.

My feeling now is that to be a great renovator you need to have a spirit and character as large as the house you're working on. The end result can be just as significant a personal statement as anything spanking new, and, just think, you rip up fewer trees from Momma Earth.

And if the Taj Mahal ever needs renovation I would gladly recommend Marshall and David; for the Taj and even for something a little smaller like our 2,500 square foot townhouse!

Here, then, are some notes from our initial interview with David before we renovated. But if that's the direction you're headed, as opposed to building new, I suggest you skip the proceeding and simply call him yourself.

Louis Postel: How did you get started in construction?

David Glod, GLOD Restoration & Renovation: My father was in the business and I worked with him from a very young age, eventually apprenticing with him in my teens. After college, I went back to the trades and started my own business in 1985.

LP: What did your Dad teach you?

DG: He taught me the importance and necessity of quality work and that was the basis for which you were to do all things.

LP: Can you give me an example?

DG: In general it's the importance of doing things well, because that's what lasts. The question isn't only what it will look like when you are finished, but what will it look like 5, 10, or 20 years later? So we could side a house with a pine clapboard and paint it, or we can side a house with pre-primed cedar and the day you are finished they both look great and most people could never tell the difference, but in three or four years the pine siding will be peeling and possibly twisting and the cedar should be fine.

LP: So what do you do?

DG: Part of my job as President of the company is to instill in my employees this notion of quality, and that when they are installing a two by four in a wall they're not just banging a nail. They are constructing a wall that's part of the house that they are building. It's important that everyone understands the whole, and all the parts have a relationship to each other.

LP: Does this include your subcontractors, or do they just go in and out?

DG: Yes, absolutely. That's why we feel it's important to have all the subcontractors involved in the process of design as soon as possible. We not only want them to understand what they're doing but we believe they bring something to the table as a plumber or an electrician.

LP: What's an example of a typical challenge?

DG: As in the traditional condo on the Charles that you see here on the site, there were many constraints in regards to location of existing heating ducts. Instead of boxing the duct work in the corner of a room we trayed the ceilings and installed accented cove lighting in the tray, thereby taking what was a design problem and creating a design feature. So to look at this particular ceiling you wouldn't know there are heating ducts inside, although an architect or a designer might have a notion of where the heating duct can go, it is the HVAC installer that has to put it in. His or her contribution early on will alleviate problems.

LP: But how would you treat an old house like ours?

DG: Our collaborative process is even more important in historic restorations, because you have even more constraints. First and foremost, one is concerned with maintaining the architectural and design integrity of the structure. And secondly, one often finds structural problems. So, many discussions with designer, architect and subcontractor are necessary for this type of project.

LP: Can you deal with the historical commission for us?

DG: Our team includes former members of local historical commissions and former and current members of local boards of appeals.

LP: We can't have anyone working in our house before 9 am, so what can we do?

DG: One of the most important notions we instill in our employees is to recognize the fact that we are not just working on your house, but that we are working in your home. It's important that we be flexible and respectful of people's needs.

LP: We had a previous contractor who always left the job a mess. With two children, that's a problem!

DG: Again, we recognize we are working in your home, and a safe and clean environment is as important to us during construction as it is to you. I believe there is a relationship between a chaotic and dangerous job site and mediocre results in construction.

LP: How far away do you work?

DG: We generally work in the Greater Boston area north of Route 9.

LP: We're looking for at least three bids.

DG: Our collaborative design process excludes bidding. And here's why: The traditional method is that an architect develops drawings before cost estimates. After the client has spent 12-15% of construction costs on these architectural drawings, the project is then put out to bid. Historically, the three bids could possibly differ as much as 50%. One could easily say, it's just one contractor trying to charge more than another, but in reality what usually takes place is that contractors are bidding on different things. Secondly, often an antagonistic relationship can develop between architect and builder where one says "I didn't figure that!" or "that's not clear in the drawings." The point is it doesn't make a difference who is right or wrong. There are extra costs and the person who loses is the client. Our collaborative design process recognizes that each profession has something important to add to the design process, and that working together from the beginning we can provide a project that is better designed, more cost effective, and with a lot less friction. It's not in my interest to have an unsatisfied client at the end of the project. When a business like GLOD RESTORATION & RENOVATION has been built on referrals for twenty years every client matters!

LP: One of the projects on your site looks very modern. Is that your specialty?

DG: No. We specialize in home renovation and restoration, and do not exclusively do one particular type of design.

LP: Are your employees insured?

DG: We carry liability and workman's comp insurance. Our subcontractors all have their own liability and the expectation is that both employees and subcontractors come to project every day on time, clean, and with a smile.

LP: How does your construction process work from beginning to end?

DG: We begin with an initial meeting that includes an architect, client and myself. Out of that meeting we hope to define the scope of the project. If the client is happy with our discussions, we project a cost for preliminary drawings. We then set up a second meeting to review these preliminary drawings with the client and make any minor revisions if necessary. If the client is happy with this, we create a preliminary cost estimate that we review at a third meeting. If that's acceptable to the client, we develop a contract, ask for a deposit, and produce working drawings.

LP: When is our point of no return?

DG: Our process is consciously divided into separate entities so that if at any time after a meeting the client is not completely satisfied, that client can end the relationship. These small steps allow the client to really think about what they want and the solutions we propose. We are not here to push a certain solution on you, but instead to give you options.

LP: What if we have already chosen our own interior designer?

DG: Great! Let's bring him or her into the process from the very beginning.

LP: Will we ever see you on the job?

DG: We are selective in our projects, so I often spend up to 75% of my time on the job. So don't worry, you may be seeing more of me than you want!